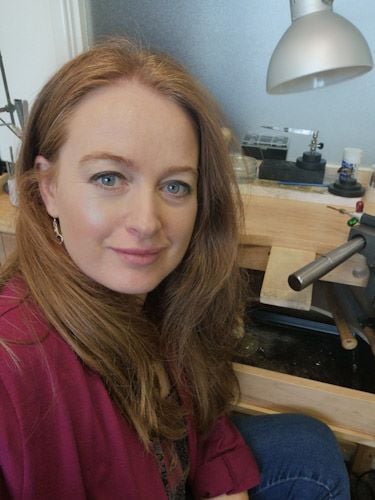 Making beautiful and recognisable fine jewellery, that gives my clients a real choice beyond the High Street whilst capturing the loveliness of my local coastline and made in England pride, is a privilege I endeavour to convey in every piece I create.
My materials of choice are hallmark quality, solid gold, platinum and silver, as well as diamonds and gemstones, all sourced from well known UK suppliers. I only work in top quality precious metals.
My designs are inspired by oceanic flora and fauna, and often incorporate both realistic and imaginary elements. Although my collections are always heading in new directions, they are linked by certain key design explorations which remain within the storyline of my maker's mark. I am happy to work on commissions to create pieces which lie in harmony with my clients' desires and my style's themes.
I am extremely proud to have been granted a maker's mark by the Goldsmiths' Company Assay Office in London where all the required completed jewellery I make is purity tested, hallmarked and laser stamped for authentication with my initials and their globally recognised leopard's head symbol.
My passion for artistic expression began at a very early age. I studied art throughout my school years. In 1991 I graduated from CENTEC's Commercial Art programme located in South Africa, also gaining the award for Best Art Student in my region. I then completed a Graphic Designer apprenticeship with an advertising company in Durban. It was during my subsequent time in the USA that I found my artistic home in the field of jewellery. I graduated on the 'Honor Roll' of Harrisburg Area Community College's 'Jewelry Repair' qualification in 2005. I then entered an apprenticeship under the tutelage of a Master Goldsmith at a highly regarded jewellery store in Pennsylvania. I also completed a stone setting course in 2005 at Blaine Lewis' New Approach School for Jewelers in Virginia (now located in Tennessee). Additionally, I earned a Bachelor of Arts degree from the Open University in 2016.
In 2007, I moved permanently to England to be nearer to my family. This proved to be one of the best decisions I have ever made and North Norfolk's glorious "Champagne Coast" has been my muse ever since. Like the power of the sea, love transcends obstacles, restores the soul and fuels beautiful dreams. I hope my work brings you a measure of the joy you richly deserve.